I think I have discovered a strange bug.
In mecanim animation settings, I am calculating
Speed Value
for the playback speed of the mecanim animation.
It says, that when it's above 1, the animation playback speed will be higher.
When I set up my attack event and add
Combatant Animation
node with
Normalized Wait Time
e.g. 0.5 I am not getting the right number back.
Example:
My combatant basic attack animation takes 2s by default. My attack speed formula for calculating
Speed Value
based on combatant attack speed is 1.5. This means, the animation should take 2 / 1.5 = 1.33seconds instead of 2. So far, no issue and all works as expected.
However, when I try to get normalized wait time (e.g. 0.5) in the event I am getting a result of 2 * 1.5 * 0.5 = 1.5s. I think there is a bug that instead of division, there is multiplication.
I am not even uncertain atm, I am sure there is a bug. Normalized time set up like this, returns a wrong value: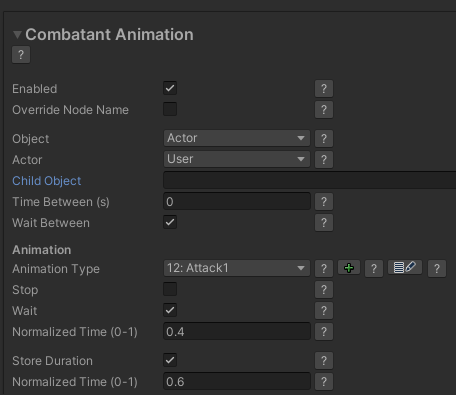 Simply if my Speed Value modifier was 100, my monster combatant would be animated 100 times faster, but if I used normalized time to wait for e.g. 0.5, it would wait DEFAULT DURATION OF THE ANIMATION * 100 * 0.5.
Post edited by zatokar on